YOUR
100-YEAR
FAMILY-SIZED HOMES
ECO-MODERNITY AT ITS ENDURING FINEST
Located in the fast growing satellite town of South Bangsar, The Estate offers the pinnacle of holistic living in a modern freehold residential development.
Wake up to panoramas of the Bukit Gasing forest, enjoy privacy and security in low-density complexes (only 4 corner units per floor). Experience comfort and convenience with 4 car-park lots per unit and a host of luxurious facilities and amenities.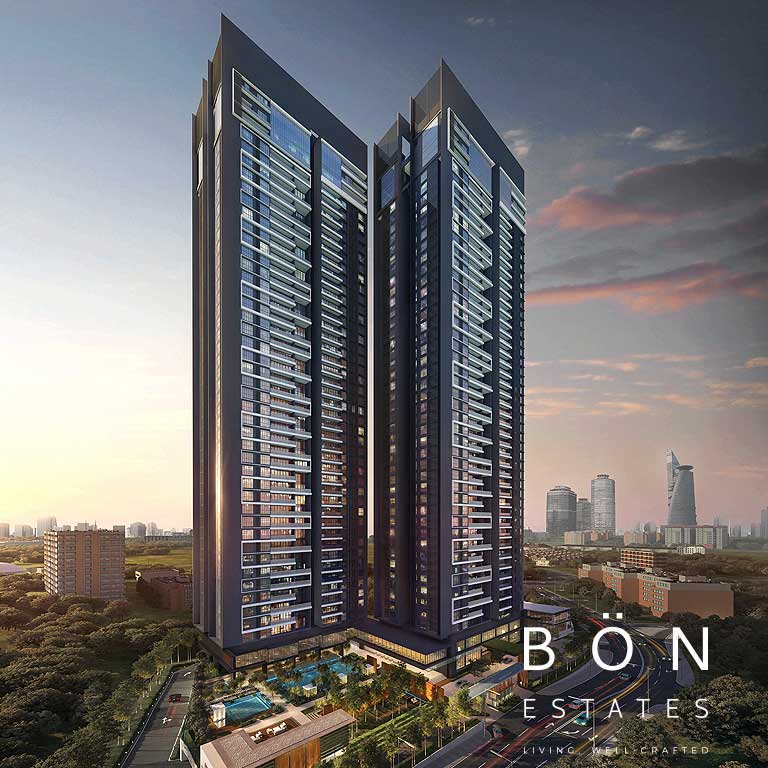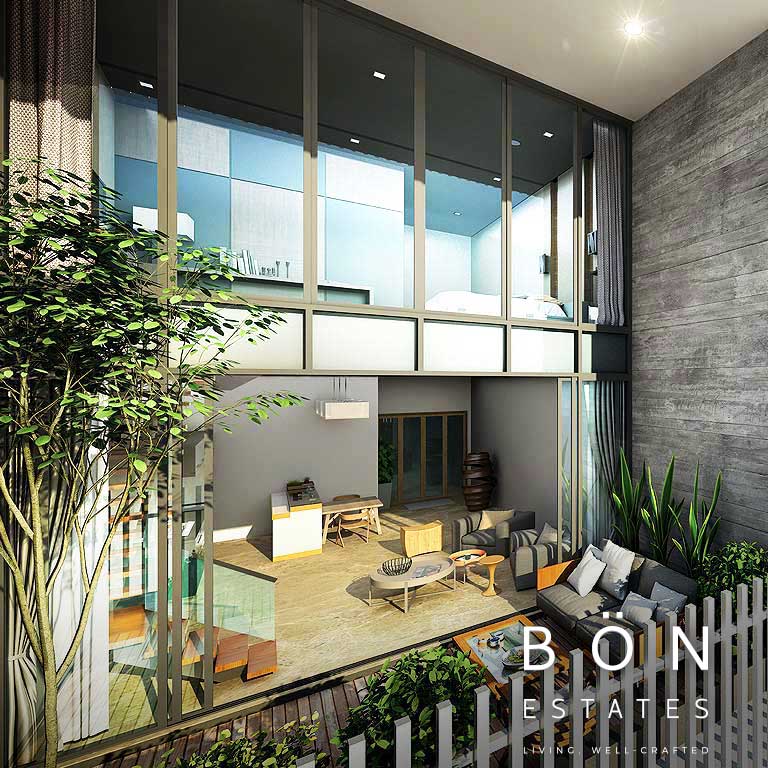 BUILT TO SURVIVE GENERATIONS
The Estate has been meticulously designed with sustainable and eco-friendly materials to create enduring homes that will not only last a century or more but will also allow generations of families to come together.
A primary feature in many units is the 'dual-key' concept, which encourages multi-generational cohabitation while offering one another the valuable comfort of privacy.
LOW DENSITY WITH PRIVATE LIFT LOBBIES

Each home comes with a private lift lobby, four car park units and keyless entry to offer the best in privacy and security.

LUXURIOUSLY SPACIOUS YET PRACTICAL

All units at The Estate are designed as corner units, featuring majestic city or forest views, magnificent high ceilings, an open plan layout, a generous balcony and cleverly efficient use of space.

PASSIVELY COOLED HOMES

Low emission windows facing east and west, along with shades that feature deep overhangs and concrete shear walls on sides facing the sun helps to keep your home cool and save electricity consumption.

CAREFULLY SELECTED BUILDING MATERIALS

Engineered wood flooring, Swiss-quality Niro Granite tiles, TOTO Sanitary ware with high efficiency flush toilets, PP-R (Polypropylene - Random) pipes and fully brass taps are just some of the top quality and long lasting fittings you'll find at The Estate.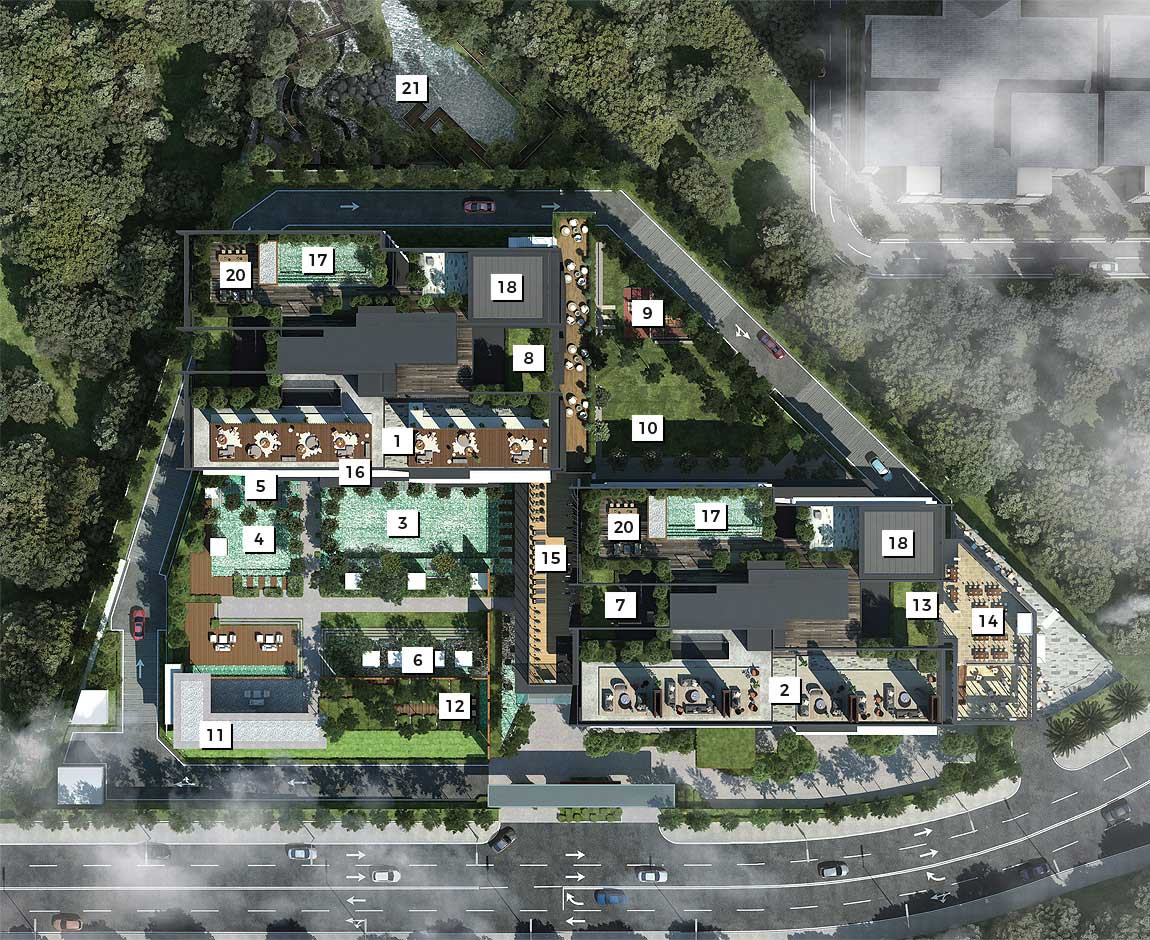 Ground Level
Resort Lobby
Grand Lobby
Lap Pool
Family Pool
Kid's Pool
Cabanas
Multipurpose Hall
Playroom
Playground
Sunken Lawn
Pavillion
Tea Garden
Games Room
Cafe
First Level

Gym
Party Rooms
Sky Terrace

Sky Pool
Sky Dining
Sauna
Barbecue
Basement Four

Lake Walk


BON ESTATES
SALES GALLERY
+603 2202 6566
+6012 4666 683
info@bonestates.com
57, Jalan Penaga, Bangsar
59100 Kuala Lumpur.
Pemaju: Bon Estates Sdn Bhd (37791-P) • Nombor Lesen Pemaju: 9112-4/12-2020/03224(L) • Tempoh Sahlaku: 15/12/2020 - 14/12/2021 • Nombor Permit lkIan & Jualan: 9112-4/12-2020/03224(P) • Tempoh Sahlaku: 15/12/2020 - 14/12/2021 • Bon Estates Sdn Bhd: 57, Jalan Penaga, Bangsar, 59100 Kuala Lumpur • 03-2202 6566 • Pegangan Kekal • Sekatan Bebanan: Tiada • Jumlah Unit: 328 unit • Unit untuk Bumiputera: 98 unit • Baki unit yang belum dijual: 35 unit • Unit yang telah dijual: 293 unit • Min 4 tempat letak kereta setiap unit • Kondominium Estet dijangka siap: Dis-2021 • Saiz unit: 2,346 - 7,057 kaki persegi • Harga min: RM1,946,500 • Harga max: RM6,064,100 • Jenis A - 76 unit • Jenis B - 80 unit • Jenis C - 64 unit • Jenis D - 32 unit • Jenis E - 64 unit • Jenis F - 4 unit • Jenis G - 2 unit • Jenis H - 2 unit • Jenis I - 2 unit • Jenis J - 2 unit
Dewan Bandaraya Kuala Lumpur: (18) dlm.BP S1 OSC 2015 3059 • Bumiputera Diskaun: 5%
IKLAN INI TELAH DILULUSKAN OLEH JABATAN PERUMAHAN NEGARA